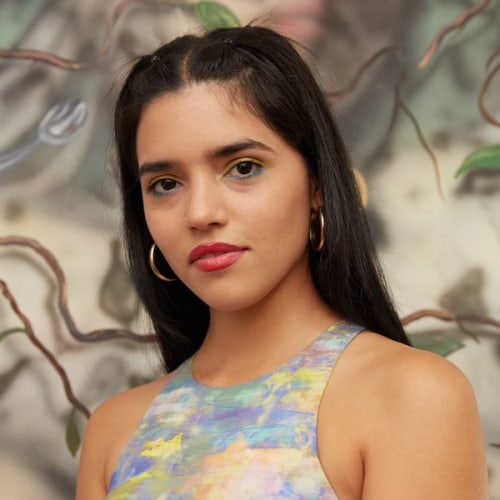 Born 1994, San Juan, Puerto Rico
Lives and works in Queens, New York
Larissa is a multidisciplinary artist who is interested in processing her childhood and adult trauma through the essential power of storytelling. Her practice is centered around authentic expression and deep introspection. In her recent work, finding presence through the artmaking process has been a top priority. Exploring and experimenting with materials keeps her interested, not only in what she's creating but it brings her focus to the how, rather than the why.. This therapeutic and meditative approach allows the artist to discover new ways to talk about old issues, this is what keeps her coming back to the studio. Her stylistically varied but mostly neo-surreal imagery is linked to the artist's curiosity of the subconscious mind and psychoanalysis. Hence the subtle referencing of surrealist artists such as Magritte, David Salle, Louise Bourgeois, Dalí.
Negrón tells her most intimate stories through her work and although they require vulnerablity, these personal memories serve as a cathartic way to connect with the viewer. In her work, you can find mundane moments that left an imprint in her psyche, such as feelings of inadequacy, fear, doubt, nostalgia, anxiety and also happiness, goofiness and excitement. She looks to express every part of herself to be able to accept herself and in turn, become free from her own critical mind. Existential themes such as the expectations of women in society, the vitality of nature, using humor as a coping mechanism and the power of storytelling as a tool for healing are all present in her work.