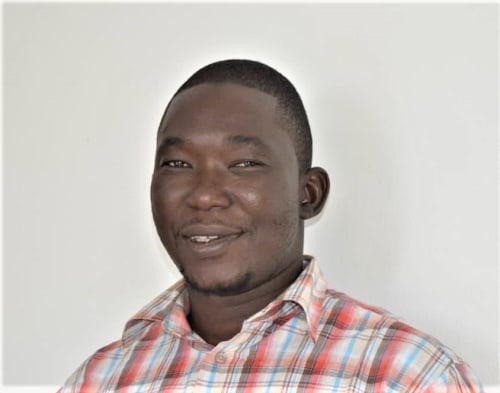 Born 1988, Sikasso, Mali
Lives and works in Bamako, Mali
Moussa Traoré is a painter and multimedia artist with a background in sculpture and textiles. His recent paintings explore the identity and spirit of man, inspiring him to produce an entire universe of twisted and unsettling creatures. His figures feature compositions of human and animalistic qualities, "the man tends to forget this animal part. We are all half-man, half-animal," Traoré declares. These haunting, primordial therianthropic forms contain an otherworldly quality as they suspend on the canvas like ghastly spirits in their surreal world, where loneliness, suffering, and uncertainty prevail.
Traoré received training in traditional craft forms from the National Institute of Arts (INA) and the Conservatory of Arts, Balla Fasseke KOUYATE of Bamako (CAMM-BFK). During this time, Traoré developed his practice alongside mentors such as the founder of the artist collective L'atelier Badialan, Amadou Sanogo, and its director Abdoulaye Konate. Traore also studied under masters Ludovic Fadairo and Dany Leriche. The artist's contact with diverse art forms and training with renowned artists have all influenced his practice and style.
Traoré's work was featured in Self-Addressed, an exhibition curated by Kehinde Wiley at Jeffrey Deitch Los Angeles in 2021. Additionally, he exhibited in the 2020 exhibition La brousse imaginaire at the National Museum of Mali, Bamako, Mali. The artist has also had international solo exhibitions, such as his 2021 solo exhibition Chimères at La Folie Saint-Martin, Paris, France, and his 2017 exhibition at Taxi Bamako, Bamako, Mali.