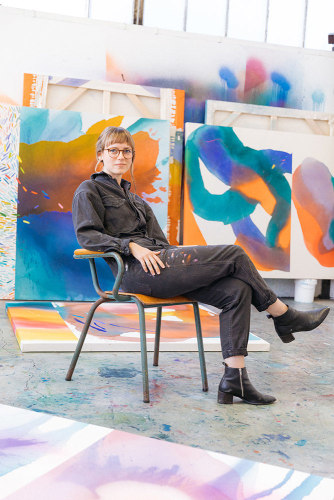 Born 1989, Honolulu, Hawaii
Lives and works in California
California-based artist Heather Day makes abstract paintings and digital works composed of scraped, smeared, and flooded pools of pigment on heavily worn canvases, often stitched together. Day expands the conventional surface area of a painting, treating the backs and sides of a canvas with the same value as its facade. She uses recurrent markings and reformed canvases as atoms of an idea, free to be reconfigured but always orbiting around one center. The compulsive energy of her work oscillates between rehearsed abandon and careful restraint.
In addition to Day's core painting practice, she has been exploring ways the traditional analog medium can be expanded with the use of technology. Day's work further bridges the imaginary gap between tactile and digital art while challenging the traditions of abstract expressionism. More recently, she has extended her studio practice to the realm of animation where she documents a painting as it comes to life, stitching those moments together in motion and combining physically painted marks with digital brush strokes.
Heather Day lives and works in California. She earned a BFA from The Maryland Institute College of Art. Day has been featured in notable solo exhibitions with the Fort Wayne Museum of Art and Diane Rosenstein Gallery in Los Angeles. Day has completed artist residencies at Macedonia Institute, Vermont Studio Center and collaborated with both Facebook and Google, creating virtual and augmented reality works that bridge the gap between art and technology. Day's work is held in the private collections of Fort Wayne Museum of Art, Fidelity Investments, Chicago Philharmonic, Facebook, YouTube, Warner Brothers among others.