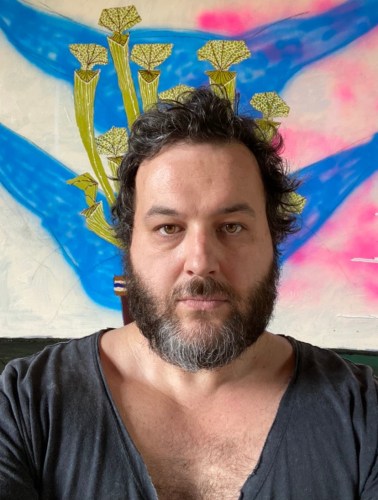 Born 1982, Melbourne, Australia
Currently lives and works in Albi, France
Jordan Kerwick is a self-taught Australian artist. Kerwick translates three-dimensional space into flattened compositions of pattern and color. The artist applies thick brushstrokes of vivid tones against layers of coarse collage elements to build richly textured surfaces of compelling depth. Upon close inspection, text and figurative shapes appear from within the broad swaths of color. Kerwick's raw style combines art historical references with images of symbolic objects to revive classic Vanitas still lives into the realm of contemporary art. His exquisitely balanced oil and mixed-media works on canvas investigate the interplay between colors and forms in bold strokes.

Having started painting in 2016, Kerwick is rapidly gaining recognition on the international art stage with recent exhibitions including a dual show Fatal Purity at Masahiro Maki Gallery in both Paris and Tokyo; Sweep the leg, Johnny at Pt. 2 Gallery in Oakland, CA; Diary of an Introvert at Delphian Gallery, London; and Outro at Piermarq, Sydney.