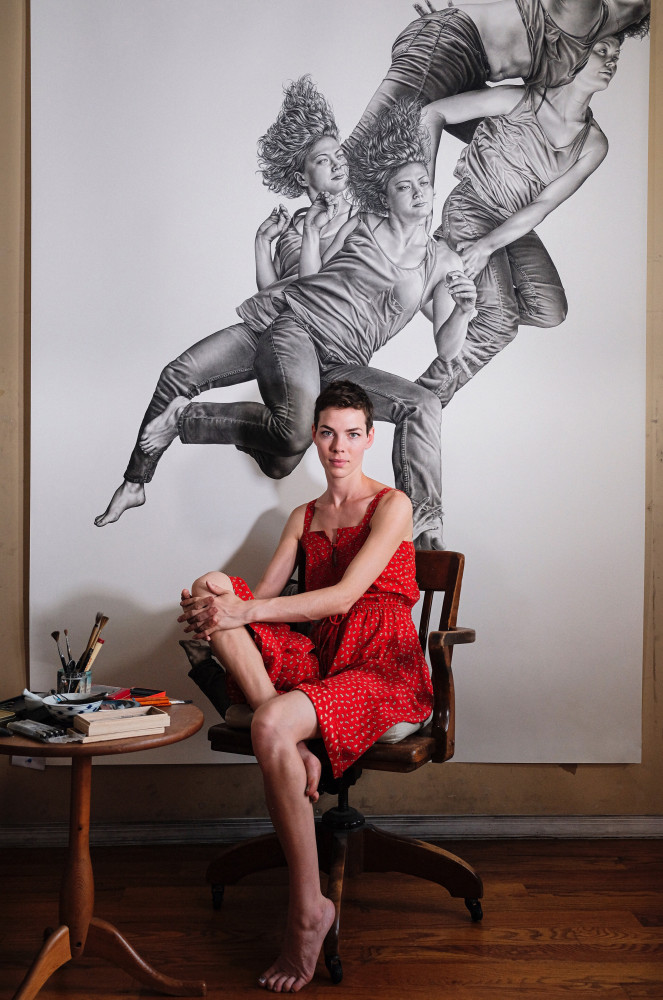 Born 1985, Cattaraugus County, New York
Lives and works in Brooklyn, New York
Leah Yerpe (New York, 1985) received a BFA from SUNY Fredonia and her MFA from Pratt Institute. Yerpe's work has been exhibited extensively including presentations at the Watermill Center and Norwood Club in New York. Her drawings have been reviewed in Huffington Post, Quiet Lunch Magazine, Nylon, among others and featured on the cover of the New York Magazine. Her work is included in renowned international collections including the permanent collection of the Dowd Gallery at SUNY Cortland.
"I use the human figure in my work because we cannot help but project on and relate to it. The bodies in my work are multiplied in different poses, twisting, floating and falling on a ground purged of contextualizing marks. I never pose my models; they have free reign to move in an immediate, improvised dance".
This looseness contrasts with a fastidious drawing technique, where Leah Yerpe captures the bodies of her models as if formal elements in a collage. She sees them transformed from free individuals into symbolic figures. This is akin to the transformation of human experience in mythology and religion. The influence of mythology on her artwork is often hinted at in the titles, though Yerpe's work is not a direct illustration of the stories. What the artist is after is that kernel at the heart of the story, the core that will always resonate human experience.

A look into Leah Yerpe's exhibition and body of work Stellify. Film by Jonathan Auch.