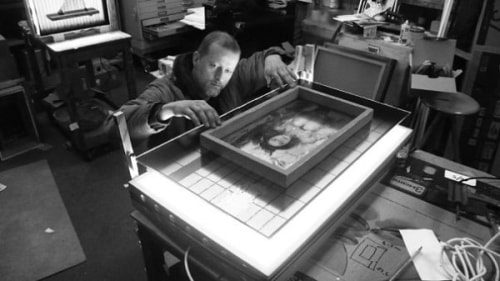 Born 1964, Zurich, Switzerland
Currently lives and works in Zurich, Switzerland
The video sculptures by MARCK are more than a simple combination of video and sculpture: They are a logic consequence of his extensive examination with films and videos, multimedia based projects, performances, music and sculptural as well as kinetic objects. The examination of humans and their world of feelings is central to MARCK's oeuvre. Often depicting women confined in tight spaces, Marck focuses on exploring societally imposed gender roles. He presents women that, although hopelessly pigeonholed, are not anxious and instead realize that nevertheless they must constantly confront their situation. In the work titled Snow, the swimmer wades back and forth ceaselessly against the confining walls. Acknowledging the certainty of her fate enlightens a sense of contented acceptance. As she creates her own tides, she revels in the reverberations of her interactions with the boundaries. Marck's eternally looping footages predominantly suggest struggles of Sisyphean circumstances as means of examining a broader, non-gendered theme of existential absurdity at the heart of humanity's persistent desire to find truth and meaning.
MARCK's works are represented in public collections including The ZKM Center for Art and Media Karlsruhe, Karlsruhe, Germany; Krupp Collection, Boston, MA; the Dosan Art Center, Seoul, South Korea and the Art Center Borusan, Istanbul, Turkey.
MARCK
a film by Ona Pinkus